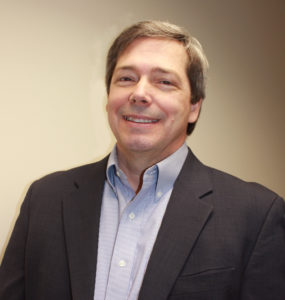 GREENSBORO, N.C. – – David Kolosieke, currently the Habitat for Humanity of Greater Greensboro chief financial officer, has been named the chapter's president and chief executive officer effective June 1, 2019, the Habitat Greensboro board of directors announced today.  Kolosieke will replace Dr. Maria Hanlin who will retire on May 31, 2019.
"Multiple top-quality candidates from across the country applied for this position, but David rose to the top immediately," Habitat Greensboro board chair Robby Dunnagan said.  "David has the in-depth understanding of the organization, existing relationships with our donors and a true passion for the work we do in our community.  On behalf of the search committee comprised of current and former board members and the entire Habitat Greensboro team, we look forward to David's leadership as we strive to take our organization to new heights and continue our mission of providing decent and affordable housing for our community."
"I am honored to have been offered this position and am thrilled to accept it," Kolosieke said.  "I'd like to congratulate our outgoing president and CEO, Maria Hanlin, and thank her for her commitment and service to our organization.  Habitat Greensboro has enjoyed many dynamic leaders during the last 30 years, and I hope to continue that tradition and further our mission while serving our community and Habitat Greensboro as an effective and compassionate leader." 
Kolosieke, who joined Habitat Greensboro as its chief financial officer in late 2016, came to Habitat from First Presbyterian Church in Greensboro where he served as the director of finance and operations for some 10 years.  Kolosieke brings a wealth of nonprofit experience to his new office with more than three decades of leadership in finance and operations management.  He holds a degree in public accounting from Loyola University Chicago and a BS in elementary education from Loyola University Chicago.
About Habitat for Humanity of Greater Greensboro: 
Founded in 1987 by four Christians in response to their Habitat experience in Peru, Habitat Greensboro, with the help of some 5,900 volunteers and 30 staff, renovates and repairs some 20 homes each year.  Since its inception, Habitat of Greater Greensboro has completed more than 490 homes in Greensboro as well as 450 in the countries of Honduras and Jordan.  Habitat for Humanity partners with families that have steady employment for one year, participate in a thorough credit analysis, attend educational classes on budgeting and home repair and contribute 250 hours of sweat equity. Homeowners purchase their homes from Habitat at no-profit and with affordable financing. Habitat then serves as the mortgage lender providing life-of-the-loan affordable financing and loan servicing. For more information, please visit www.habitatgreensboro.org.  Connect with Habitat of Greater Greensboro through social media: follow on Twitter: @HabitatGSO and Instagram: @Habitat_GSO and like on Facebook: www.facebook.com/habitatgreensboro.
About Habitat for Humanity:
Driven by the vision that everyone needs a decent place to live, Habitat for Humanity began in 1976 as a grassroots effort on a community farm in southern Georgia. The Christian housing organization has since grown to become a leading global nonprofit working in nearly 1,400 communities throughout the U.S. and in more than 70 countries. Families and individuals in need of a hand up partner with Habitat for Humanity to build or improve a place they can call home. Habitat homeowners help build their own homes alongside volunteers and pay an affordable mortgage. Through financial support, volunteering or adding a voice to support affordable housing, everyone can help families achieve the strength, stability and self-reliance they need to build better lives for themselves. Through shelter, we empower. To learn more, visit habitat.org.
# # #
Contact:
Daintry O'Brien
Habitat For Humanity of Greater Greensboro Communications
Office: (336) 232-0134
E-mail: dobrien@habitatgreensboro.org
HHGG 19-03