In response to Covid-19, we have suspended ReStore operations, construction, and homeowner education classes. Office staff will continue to provide support remotely. We will continue to reevaluate these changes on an ongoing basis.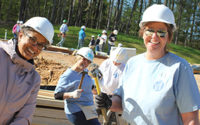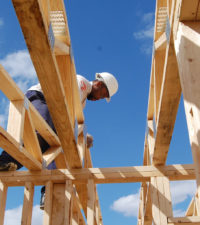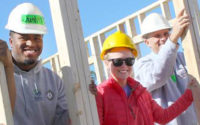 Habitat Greensboro works toward our vision of a world where everyone has a safe and affordable place to live. Habitat homeowners help build their own homes alongside volunteers and pay an affordable mortgage. Through financial support, volunteering, or adding a voice to support affordable housing, everyone can help families achieve the strength, stability, and self-reliance they need to build better lives for themselves.
We believe that owning a home is a major milestone on the road to a family's financial success, and a key component of our community's economic stability. Since 1987, Habitat Greensboro has served over 500 families in Greensboro.
In addition to the homeowners we serve locally, Habitat Greensboro provides funding to our affilitates in Honduras and Jordan, where we have helped to build nearly 500 homes.
News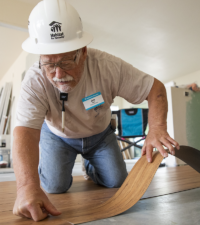 This past year brought amazing accomplishments for Habitat Greensboro outlined in this report.  We went from highs to lows as we celebrated the opening of the Housing Hub with Governor Roy Cooper  and then a month later devastated by an EF2 Tornado in East Greensboro.  Those two events helped solidify our relationships with other housing nonprofits in our community and brought us all closer together as we worked to assist homeowners and displaced families impacted by the many storms of 2018.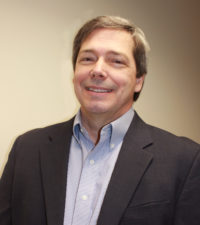 David Kolosieke, currently the Habitat for Humanity of Greater Greensboro chief financial officer, has been named the chapter's president and chief executive officer effective June 1, 2019, the Habitat Greensboro board of directors announced today.  Kolosieke will replace Dr. Maria Hanlin who will retire on May 31, 2019.
Main Office
1031 Summit Avenue
Suite 2W-2
Greensboro, NC 27405
Phone: (336) 275-4663
Fax: (336) 691-0769
Volunteer Weather Hotline:
(336) 232-0155
West Gate City ReStore
3826 W. Gate City Blvd.
Greensboro, NC 27407
Phone: (336) 851-2929
Hours: Tues-Sat. 10a.m. – 5:30p.m.
Lawndale ReStore
2190 Lawndale Drive
Greensboro, NC 27405
Phone: (336) 851-2929
Hours: Tues-Sat. 10a.m. – 5:30p.m.